Organising a meeting in Outlook means sending out requests to participate – effectively you're creating an appointment or event in your own calendar, then converting into a meeting by inviting other people to join you. If you're putting something in your diary and want other people to know about it, but without expecting them to join you (eg you're going on vacation and presumably don't want your teammates to tag along), simple tricks can reduce the annoyance you might foist onto your co-workers…
Create a separate appointment for sharing (rather than forwarding one already used to block out your own calendar)
Under Response Options, clear the default "Request Responses" option, so they don't need to respond
Set Reminder to None so people don't get a notification fired, unless you think you're important enough to make sure they know at the time, that you're away
Show As: Free, so your appointment doesn't block out their calendar and get in the way of other people who are trying to book proper meetings with them. Think of this as an FYI for colleagues' calendars.
Who has responded? Have most people declined?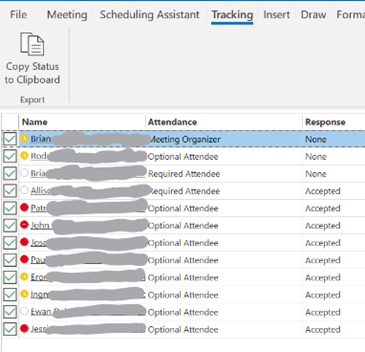 When you open a meeting you're organising and which you do want people to respond to, you've always been able to see (in the Tracking tab) how many people have accepted or declined etc. A couple of years back, Outlook added the feature of Tracking if you're an attendee, so anyone in the same tenant as the organizer can see who else has accepted etc.
If you are organising or attending a large business meeting with lots of attendees, it's useful to be able to slice and dice the attendees more effectively – have most people declined and should I move the date, for example – click on the big Copy Status option at the top of the list.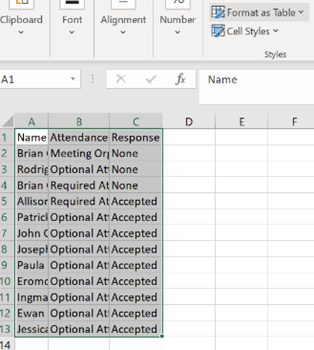 It's now easy to paste the info into a blank Excel sheet, and before even changing selection, hit the Format as Table option on the Home tab; confirm the selection area is OK, tell it you want to add a header row and choose a style that suits.
If you right-click the table and select Table > Totals Row then if you filter the headings – like the responses, for example, you'll be able to quickly see how many Accepted, Declined and so on.
What could be interesting, too, is showing attendees names alongside their role, department, which office they're from, their actual email address etc…


Well, thanks to the magic of macros, use this Address Book Resolver spreadsheet, and just paste the responses from the Copy Status… step into cell A1, then hit the Resolve button.
Some attendees might be external users (so won't be known to your address book), and some of the names in the first column might not be unique enough to resolve, and will be highlighted (alongside external users) by a red Unknown in the Job Title column.

If you manually look up an unresolved internal user in the Outlook address book, and find the correct alias name for that person, paste it into the first column instead of their name, and re-run the Resolve function.
To use this sheet for resolving any list of bulk display names or alias names, just paste them into column A (and hide Columns B and C if you're not using the output from a meeting invite tracking list).
To prepare the spreadsheet for use, download the Address Book Resolver file as above (here it is again). Open the ZIP file and open the enclosed XLSM file or save it somewhere on your machine, then open it. Make sure you Enable Editing, then Enable Content so you can run the Macro that does the lookups.
This is an evolution of the Alias resolver sheet posted back in ToW 417.