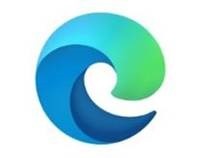 The New Edge Browser is evolving rapidly – if you're still using Internet Explorer, then ditch it ASAP and move to a modern browser. If you already use the new Chromium-based Edge, it's worth looking at the Profiles capability, which lets you keep several sets of browser settings. At a basic level, you could have a Work profile and a Personal profile, and keep usernames, passwords, favourites and so on, separate between each.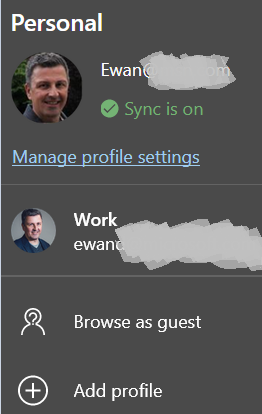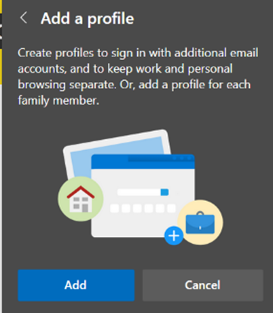 There's a profile photo typically found on the top right of the Edge toolbar, and multiple profiles can be added and managed from there. Or enter edge:settings in the browser's address bar.
Edge has the ability to sync favourites, passwords, credit cards, collections and other browser data all to other machines with the same profile address – so if you have a home PC and a work laptop, then having a "personal" profile on both could mean that suitable info will roam between the machines, but work specific stuff can be kept on your work profile.
Some capabilities – like syncing history between machines – are "coming soon".
Lately, some versions of the Edge browser have been updated to sync extensions – like Lastpass, or the OneNote web clipper. Jump to edge://settings/profiles/sync within the browser itself to see the gist.
Having multiple profiles lets you consciously separate home and work stuff, keeping social media, web mail or personal interest stuff in one window, and your boring old Sharepoint sites and PowerBI charts in another. Quickly minimizing your "home" window before sharing your desktop on a Teams call is perhaps the modern equivalent of the Boss Key.
One tricky part is when you go to open a web link – other than from within a browser session itself – then the last window you were using could be the one to launch that site, meaning you might be crossing the streams and opening up work stuff in your personal profile or t'other way round. It's possible to set a particular profile to be the default, or just let the machine decide.

One recent addition in the Beta channel for Edge – soon to hotfoot its way to the release version – is the automatic detection of work sites being opened in "other" profiles.
If you try to open a site that wants to authenticate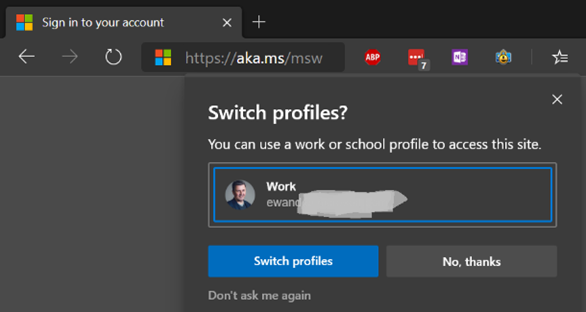 using your work or school account but you're using a different profile, you'd be offered the chance to switch to the correct one, so you can used cached authentication settings, cookies and the likes.
Automatic profile switching is available in Edge versions 83 and beyond – open edge://settings/help in the browser to see what version you have.
To read more about automatic profile switching, how to enable it and how it works, see here.